An introduction
I do not come from a family of travelers. Everyone lives within a roughly 30 mile radius of the towns my great-great-great-grandparents and their siblings helped settle when they arrived from Ireland and Germany in the 1880s and haven't really left since then. As Gram explains it, we come from a line of simple farmers, and farmers tend to stay on the farm.
There are a few exceptions – roughly one per generation who inherits that wanderlust the others then live vicariously through while staying safely at home themselves. During the Second World War, my grandmother's aunt was married to a high-ranking Allied naval officer; we have photos of her christening new ships being sent off to war and stories of her filling my Gram and her siblings' heads with tales of adventure. One of those siblings, my mom's uncle, joined the Air Force and was stationed in West Germany through the Cold War, retiring to Texas soon after the Berlin Wall came down (we have pictures of him helping chip at the wall). My mother's brother, my own uncle and godfather, moved to the Midwest for the comparatively tame adventure of medical school and decided to go native.
When I finished university and had to make my first major career choice – I'd gotten two job offers, one in London and one in Cleveland – it was he who called to advise me that he felt I was being a dumbass. "You love England," he pleaded. "Jen, people don't
get
these opportunities. Why would you even consider going to Cleveland over that? Is it the money to get there? I will
give
you the money, or lend it to you or whatever would make you not worry, but please take a few days and think this through. Cleveland isn't far enough, and you've waited your whole life for this."
"I can always visit. I still plan on traveling as much as I can."
"But it's not the same thing." I could hear his exasperation over the line as he took a moment to regroup his thoughts. "Why Cleveland?"
"Because something feels off about the London job, and that's a hell of a long way to go on my own if I feel like there's something wrong before I even get there."
"Alright, well, that's fair. But you still should think about going somewhere other than Cleveland. Trust me, it's not far enough."
I smile. "Yeah, but it's where I think my story's supposed to be."
A sigh of defeat comes over the line; we've had these conversations enough for him to know my mind is made up. "I hope to God you know what you're doing, little one," he says finally.
"So do I," I tell him as a cold rain starts pattering against the dark window. "So do I."
*****
TEN YEARS LATER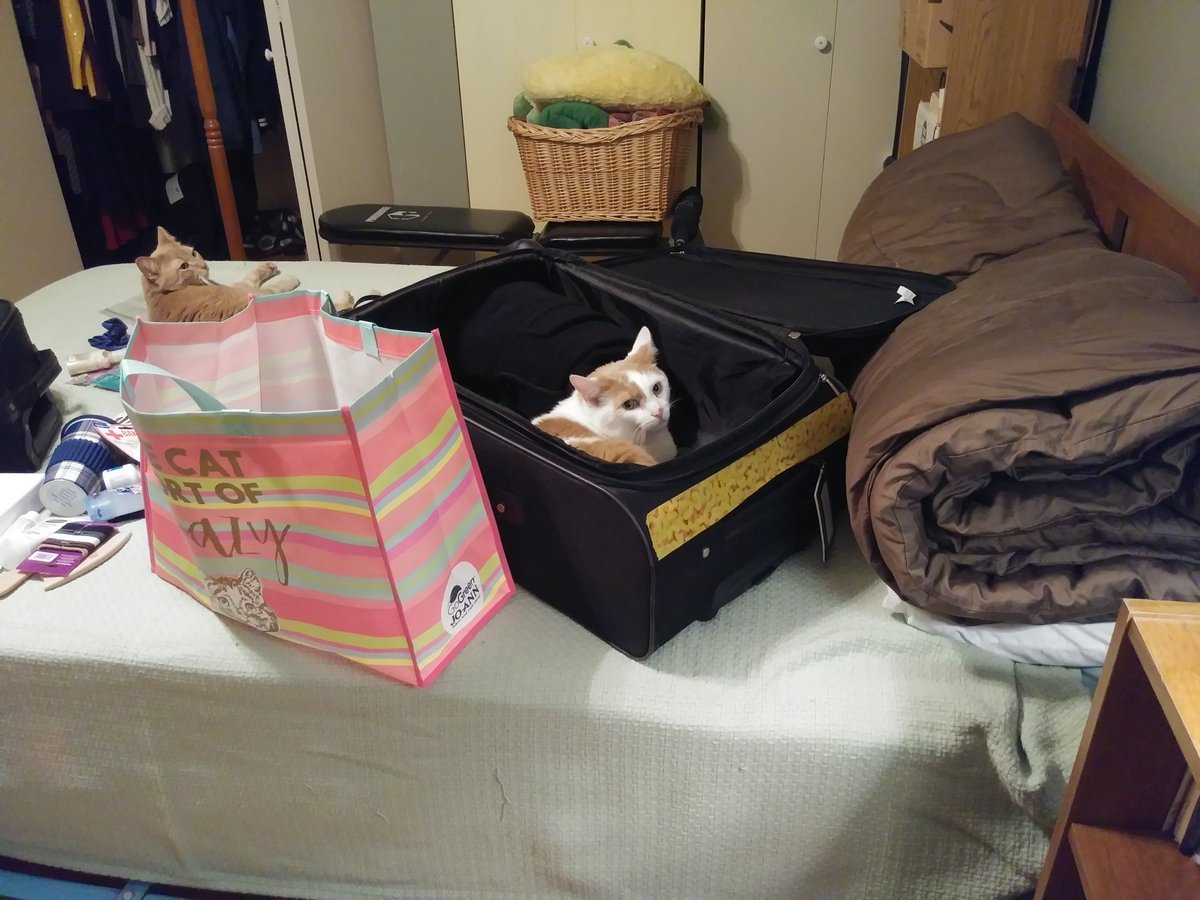 Oct. 2: So Calvin wants to go to England...
Getting there (Oct. 6-8):
We left Cleveland late Friday afternoon headed for Boston. Rental car took longer for pickup than expected, but we ended up with a very comfortable ride – Hyundai Sonata, actual keyed ignition, luxuriously cushy leather seats, and stupid insanely good gas mileage (I filled up before we left Cleveland, by the time we stopped in Syracuse for the night we were at just
over
half a tank). Only complaint was that we had a light misty rain the whole way that I enjoy walking in or curling up with tea and a book, but driving in it blows. Scott slept a bit and was pretty quiet most of the way, which is understandable, I guess. We stayed at the Ramada in Syracuse as it was the only thing available, but it was a surprisingly comfy room and a welcome break after six hours driving through the rain and fog.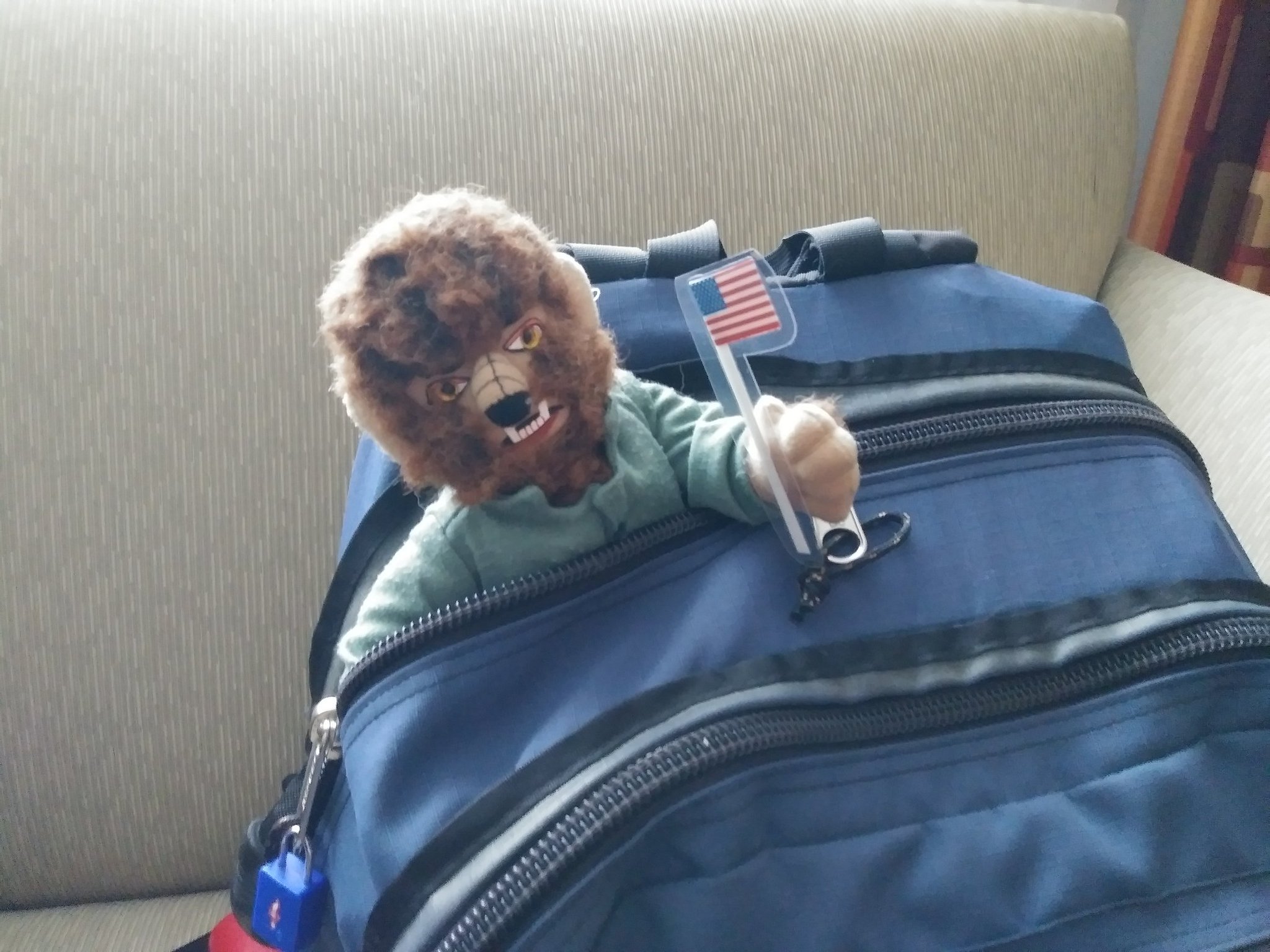 Oct. 6: An American Werewolfie In...
Saturday Scott was a bit better, insisted on driving the remaining stretch to Boston. I felt bad because I know he'll be driving the way back by himself, but I know he needed that feeling of control and engagement. Drive was relatively uneventful, though upstate New York is very beautiful – the weather broke, illuminating all the glory of autumn's vibrant colors in warm sunshine. The far western tip between the Pennsylvania border and Buffalo is still, in my opinion, a frightening pit best sped through, but once east of Buffalo, the drive has been gorgeous and the people we encountered very polite and helpful. This is the exact opposite of every other New York encounter I've had and makes me wish in a way that I'd explored it more in my younger days.
We stayed at the Howard Johnson in Quincy (about ten miles outside of Boston) Saturday night. After we checked in we went for a walk around their swamp park thing to get to Quincy Bay – western edge of my Atlantic. We inadvertently stumbled upon a polka festival, which I found hilarious, and on the beach we saw lots of crab and snails and oysters. Scott saw his first decaying horseshoe crab and was appropriately horrified. Because it was North(er) Atlantic we saw more of the king crab legs on the beach – Scott doesn't believe that birds take on and eat the crabs (
some can
).
Sunday was of course eventful. Vampy came to spend the afternoon with us and we went to walk around Boston Common for a while. We found an old carousel there, and Scott laughed at us while we went and rode it. They had all sorts of neat animals on it (a rooster! a dragon! a goat!), but of course the little children took them first. I doubt those children had the same sort of appreciation for these creatures as we did, but oh well.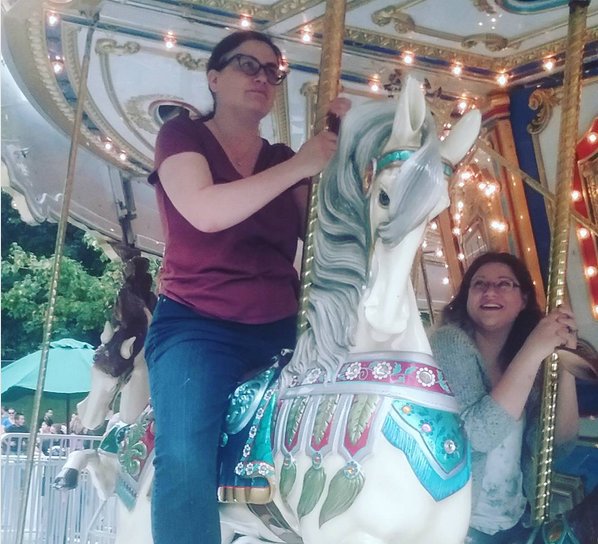 Oct. 8: I take having fun VERY seriously.
After checking out an antiques bookshop (I have now seen a $40,000 book), we had an adventure with GPS trying to find the Cheers pub for lunch – in addition to an insane amount of reroutes due to road destruction and blocks, apparently the GPS kept switching between the two Cheers locations (the one where the original exterior shots were filmed, and a newer one designed like a replica of the bar from the show). We'd started from the halfway point between the two, and the GPS confused its own self.* Eventually, upon realizing that none in our party was particularly heart set on finding this place, we said screw it and Vampy treated us to lunch at a very nice Irish pub instead. Few things in this world are better than good food shared with good friends.
We grabbed the wrong train back to the hotel, but fortunately we figured it out pretty quickly and didn't lose much time backtracking to where we needed to be. After that, no issues getting to the airport. After I left Scott and Vampy and checked in, I bought a magic sleep potion from the airport travel shop in the hopes of actually napping during the flight (I can't sleep in moving vehicles, never have). In between the potion and feeling like the nice British lady seated next to me was top notch and would not be a hindrance in an emergency, the sleep thing might have happened had we not hit bad turbulence literally every single time I dozed off. There were a few points where it was bad enough that I got really queasy, so I was thankful for the Dramamine I'd thought to bring in my little day bag.
But I made it, and at 8:15 in the morning local time, I found myself smiling over finally being back on English soil.
It was time for the adventures to begin.
*****
*Author's note: I didn't know it at the time, but this was going to be a recurring theme throughout the trip